Khinkali is said to have originated in the dour mountains to the north of Tbilisi, where Tushetian and Pshavi people live and both claim to be the originators of Khinkali. The temperature in Tusheti drops to 15 degrees Celsius in the winter, and villages in the Caucasus Mountains are cut off from the rest of the world by several meters of snow. Before it became an inseparable feature of restaurant menus, khinkali was an excellent dish for keeping shepherds warm in extremely cold weather. The meat used for khinkali was mostly lamb or sheep, but in the city, it was replaced with a beef and pork mixture.
Highest quality bread flour – 1.5 kg

Beef – 0.5 kg

Pork (bacon) – 0.5 kg

Salt – 180 g (30 g in the dough – 40 g in the meat mixture – 110 g in water)

       

Pepper (20-15 g)




Onions – 170 g

Coriander – 50 g

Cumin – 5 g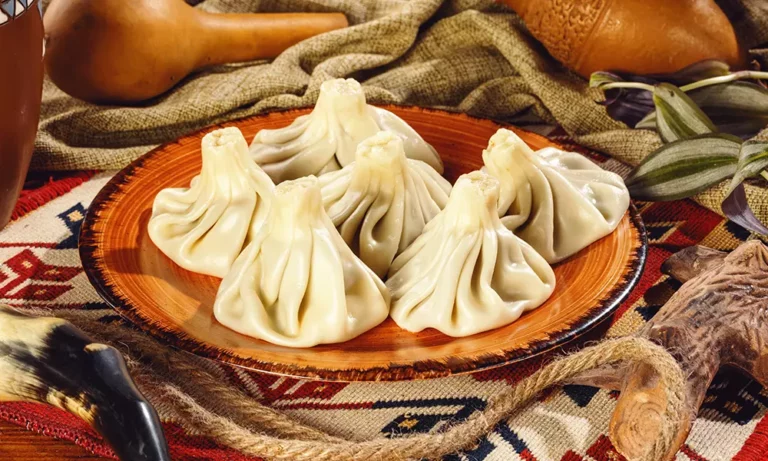 Salt the water and slowly add it to the flour. Knead the dough as tight and hard as possible. Every half-hour, knead it twice. Meanwhile, dice the beef and pork, add the onion and coriander, season with salt and pepper, and mix everything together before putting it through a thick net. Add the leftover coriander to the meat mixture and slowly pour in the water. Roll out the dough to a thickness of one millimeter. Fill the dough with the meat mixture and wrap the khinkali around it. Place them in a pot of boiling salted water, stir, and cook for another 7 minutes.
Enjoy your meal!
Where to taste the Best Khinkali in Tbilisi?
At Bread and Wine in Tbilisi, we believe that food is more than just sustenance – it's an experience. That's why we take great pride in our Khinkali dish, which is a staple of Georgian cuisine. Our chefs are passionate about using only the freshest and highest quality ingredients to create a dish that is true to its Georgian roots.
When you visit Bread&Wine, we want you to feel like you're taking a culinary journey through Georgia. Our Khinkali is just one of the many dishes that we offer, and we invite you to explore our menu and discover the rich flavors of Georgian cuisine. From savory soups and stews to delectable pastries and desserts, we have something for everyone.
So why not book your table today and experience the magic of Khinkali for yourself? Our friendly staff are always on hand to answer any questions you may have and to make your dining experience a memorable one. We can't wait to welcome you to Bread and Wine and share our love of Georgian cuisine with you.