3 M.Kostava st. Tbilisi, Georgia
If you are waiting for a meal, read about us:
Bread and Wine restaurant
I became involved with the restaurant industry in my early years, particularly while I was a student, and was offered little opportunities that provided me with excellent
training and allowed me to have a deeper understanding of the industry. I was always questioning myself as a guest what was most significant in the Georgian restaurant. Delicious traditional foods, nice music, excellent guest service, and spending quality time with friends and family, in my view. Every detail has always piqued my attention as a consumer. As a result, owning a restaurant became my ambition, though a little ambitious for a student on a tight budget. When I was a student, I gained a lot of valuable experience. My financial condition, like that of every other student in Estonia, was not ideal, so I started working as a janitor in a McDonald's in the heart of Tallinn. Working was challenging, but it was necessary for me to go closer to the restaurant industry; yet, I still had a long way to go.
To accomplish my ambition, I planned to go to every eatery in my city until I could get a job in a kitchen. After five days of job hunting, I was hired as a dishwasher in an Arabic restaurant. The cook's helper became unwell after two months of hard work, and I was given the important task of peeling the onions. This was enough to make me happy, so I went to work as a cook's assistant for three months. When the cook was absent and I was in charge of the kitchen, I felt very responsible. Later on, I also started working at the central restaurant as a bartender, which was not my strongest suit, but it taught me a lot. Working so hard taught me the value of each individual in a restaurant and that it doesn't matter where you start; what counts is how much effort you put into your job because everything is possible!
I got closer to my goal, and I was confident that I had chosen the proper path. After that, it was time to resume my career in Tbilisi, where my greatest source of support was my family: I married the most beautiful woman and became the father of two lovely girls. My wife's family provided me a place where the restaurant had formerly been, and I began to realize my goal.
How can you be successful before you even start your business?!
Many people assume that a good partner is someone who has a lot of money to invest, knows a lot of successful individuals, or has a lot of industry knowledge. That isn't true. I believe that the perfect spouse is someone who, like you, is always working toward a common goal. A good partner should have a mentality, which indicates that learning and being in a new situation are not a challenge for them, and that progress is their primary goal.
Even if you aren't present at all times, the proper partner can make decisions and take on duties on their own, so they will face and solve issues. Effective communication, in my opinion, is the cornerstone of every successful cooperation, thus you should look for someone who can do it. A lot depends on it, from the effectiveness of the staff's performance to their attitude toward the company.
Nothing is more crucial in a partnership than trust. I feel you have already found success before beginning your business if your potential or present partner possesses these abilities.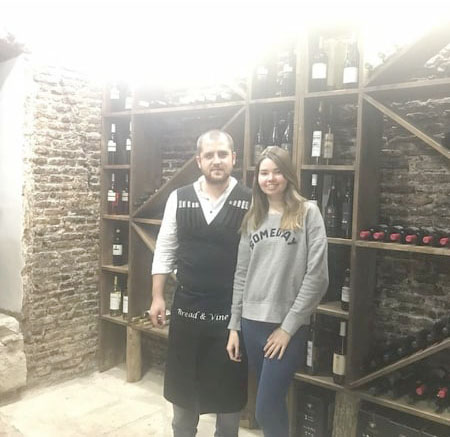 Starting a restaurant business with $5000
We live in a culture where achieving success is difficult. When we originally started, we had nothing but $5000 and empty restaurant space. The odds of success were
little to none. Our family members and relatives critical comments and sorrowful looks, as if they already knew we'd fail, were demotivating us. The dream of two individuals, which was the most significant and vital thing at the moment, was the major factor that inspired us to accomplish our goal.

No matter where you come from; if you work hard, believe me when I say that someone will always recognize your value and believe in your goals. With all of this in mind, I am certain that we could get here even if we just had $1,000 to start with.
The Concept "Bread and Wine"
Every Georgian region has its unique cuisine, which is why we decided to bring them all together under the "Bread and Wine"; idea by cooking lesser-known or popular
dishes from around the country. Simply said, the restaurant delivers delectable Georgian meals from diverse areas.
We wanted to create an atmosphere so the guests would travel through Georgia. As a result, we prepared meals on the restaurant menu using traditional methods based
on historic Georgian recipes. Similarly, the drink menu features exclusively genuine Georgian Chacha and wine.
It was critical for us to get the restaurant's interior properly the first time. We picked wood and natural materials, which were often used in old Georgian buildings. We
had to make the interior appear like ancient Georgian homes, therefore I don't think this option was unexpected.
The "Bread and Wine" theme, on the other hand, is all about Caucasian feelings that will leave both residents and visitors speechless.
Our Goals and How We Achieved Them
Our goals were ambitious from the beginning, but if we were to achieve them, we needed to work hard and be involved in every aspect of the company. Because our $5000 budget had already been spent on kitchen equipment, we couldn't afford to spend more on advertising. As a result, we needed to develop a new approach for attracting visitors and converting them into long-term clients.

We quickly understood that the waiter may have had a role in this – we were attempting to focus all of our energy and emotion on our visitors, which was successful. We developed confidence in our ability to reach our objective without spending money we didn't have thanks to this strategy.
Our efforts were not in vain: international tourists raved about us on the internet. I'll never forget a guest telling us that they came to see us because "Bread and Wine" were ranked as one of the top ten eateries online. This had a significant impact on us, so we were determined to learn more because there was so much happening that was beyond our control.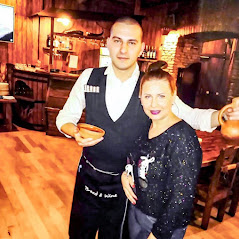 The Importance of Digital Marketing in Business Success
It's hard to imagine, but we passed our entire lives as two young individuals in the twenty-first century without understanding anything about internet marketing.

As our first two platforms, we opted to use TripAdvisor and one of Google's features, Google My Business. That's when we recognized we were in control since digital
marketing allows you to maintain track of yourself at all times. You'll discover actual people's perceptions of your firm and what they think of you. We determined to study
everything we could about this area after learning all of this so that we could better comprehend our needs.

After becoming certified professionals for Google, Facebook, and other worldwide platforms, we began consulting and delivering more services to others.
How to Choose Employees and Interact with Them
You must be professional in all aspects of your career if you want to be successful. When it comes to hiring personnel for the kitchen, we take extra precautions. Kitchen
personnel should have qualifications, experience, and a serious attitude toward their work.
Every employee should be aware of the company's ideology, the clients we serve, and the objectives we strive to achieve. Each of our staff functions as an ambassador because the majority of our guests are from different nations. Because a guest's view of Georgian culture and people is developed as a result of their interaction with us, it is critical that we portray our nation with respect. Being an ambassador for your nation necessitates responsibility and discipline, thus each employee must be aware of their responsibilities while
speaking with visitors. We need to instill patriotism in each of them so that they can effectively represent Georgia.

We are ambassadors for our country!

The working environment in our restaurant is friendly and welcoming, which is appreciated by our customers. Serving the idea necessitates maintaining this level of closeness.
Getting to Know Your Guests
A foreign guest requires different care than a local visitor. Tourists are eager to discover new facts and converse with personnel. They need to talk about what they
observed before they came to you, where they were, and what they learned new; they attempt to share their emotions with everyone.

Foreign guests want to become friends with you and seek your advice on where to go, what to see, and how to spend their time in Georgia. In the end, their trip will be
productive and full of positive feelings.
Because our employees are Georgians, we have no trouble establishing friends and gaining their trust. This form of service takes focus, effort, and psychological preparedness, yet it is apparent that this strategy was crucial to the success of "Bread and Wine"
In a restaurant, product quality is one of the most crucial factors. We used to go grocery shopping with the chef, who was in charge of deciding on products.
However, the tastiness of a dish is not only influenced by the product's quality. It's critical to handle and store these items correctly. As a result, we split the kitchen job
into four sections: product selection, correct processing and storage, and technology-assisted preparation.
The importance of dish preparation cannot be overstated. As previously said, Georgian cuisine places us in a box since it is difficult to remove the key qualities from meals and recipes that our forefathers labored on for generations. New technology and the digital world, on the other hand, have provided us with the opportunity to master new cooking techniques.
Taking all of this into consideration, the "Bread and Wine" kitchen focuses on Georgian cuisine, but we also respect the use of modern technology and trends.
Kitchens must be updated on a regular basis. Dishes must be refreshed on a regular basis, new dishes must be introduced, and all of this must be displayed for the
visitors to see. Even if it's just a few simple tweaks, changes to the restaurants interior are crucial. These adjustments will be seen and appreciated by loyal clients. Visitors are
particularly interested in your progress. Employees enjoy changes in the decor since being in the same place all the time is monotonous.
Digital marketing is the next area I'd like to discuss. This field is always evolving, providing us with new options. Every tourism company, in my opinion, should stay up
with digital marketing news.
Personal growth – It is difficult to advance in business without first advancing personally. Personal development, as well as understanding more about the
company, objectives, and ambitions, are essential for success. To run a successful restaurant, you must have a wide range of skills. However, you should not be the
one in charge of everything. If you have a wide set of abilities, you will have more opportunities. As a leader, you are accountable for having a vision and knowing
where you are heading.
Food Delivery and Pandemic
The policy of our restaurant is to market the concept rather than the cuisine. As a result, we used to think that when someone wanted to eat well, they needed to come
to us in order to truly appreciate the idea of "Bread and Wine".
Our assumption turned out to be incorrect.
If you reject technology and refuse to adapt to the modern world, the world will not forgive you. If you keep doing what you're doing, you'll fail. You have to deliver the
meal without losing the concept. 
We picked Wolt as our delivery service since this firm, in our opinion, focuses the most on its customers.
This improved our quarantine situation. When the country's borders were ready to open, we assumed that "Bread and Wine" would be forgotten, and that no
international tourists would come.
After the borders opened, guests began writing critical remarks online because they wanted to spend their time in "Bread and Wine" but we were still closed. We knew
we had to have the restaurant operational as soon as possible, which was challenging. We had to start from scratch in terms of human resources and funds.
We are proud to say that three months after opening, in October, we earned more money than in October of the previous year.
This demonstrates that a company founded on an idea lives on in the hearts of its consumers and does not go away!