Chakapuli is a staple dish that enhances the beauty of Easter. This dish originates in eastern Georgia and has quickly become an inseparable part of our national cuisine. This might be explained by looking at the components in Chakapuli and their meanings: lamb, which is a symbol of Jesus Christ, tarragon and other herbs, which are symbols of eternal renewing, and wine, which is the main symbol of the Eucharist, the most important ritual.
It's worth noting that lamb has been replaced by beef in the restaurant industry.
Beef – 1 kg
Butter – 100-150 g
Crumpled garlic – 60-70 g
Parsley – 400 g
Coriander – 400 g
Dill – 200 g
Green onion – 800-900 g
Watercress – 200 g
Tarragon – 800 g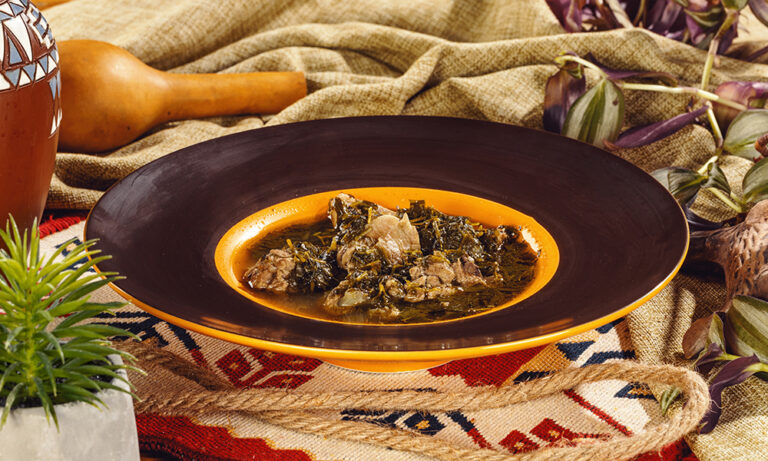 Place the beef in the stock pan, diced thickly. Green peppers, parsley, coriander, tarragon, dill, green onion, and 300 grams or 500 grams of green Tkemali (conserved). Then add 100 g butter, 1-liter white wine, 0.5-liter water, 60-70 g crumbled garlic, and salt. Cover the stock pan and place it over medium heat.
Where to taste Chakapuli in Tbilisi?
At Bread and Wine in Tbilisi, we believe that food is more than just sustenance – it's an experience. That's why we take great pride in our Chakapuli dish, which is a staple of Georgian cuisine. Our chefs are passionate about using only the freshest and highest quality ingredients to create a dish that is true to its Georgian roots.
When you visit Bread&Wine, we want you to feel like you're taking a culinary journey through Georgia. Our Chakapuli is just one of the many dishes that we offer, and we invite you to explore our menu and discover the rich flavors of Georgian cuisine. From savory soups and stews to delectable pastries and desserts, we have something for everyone.
So why not book your table today and experience the magic of Chakapuli for yourself? Our friendly staff are always on hand to answer any questions you may have and to make your dining experience a memorable one. We can't wait to welcome you to Bread and Wine and share our love of Georgian cuisine with you.