Beans – 500 g
Onions – 2-3 
Garlic – 3-4 cloves
Bay leaves – 1-2
Salt
Vinegar
Leek – 2-3
Parsley, coriander, basil, celery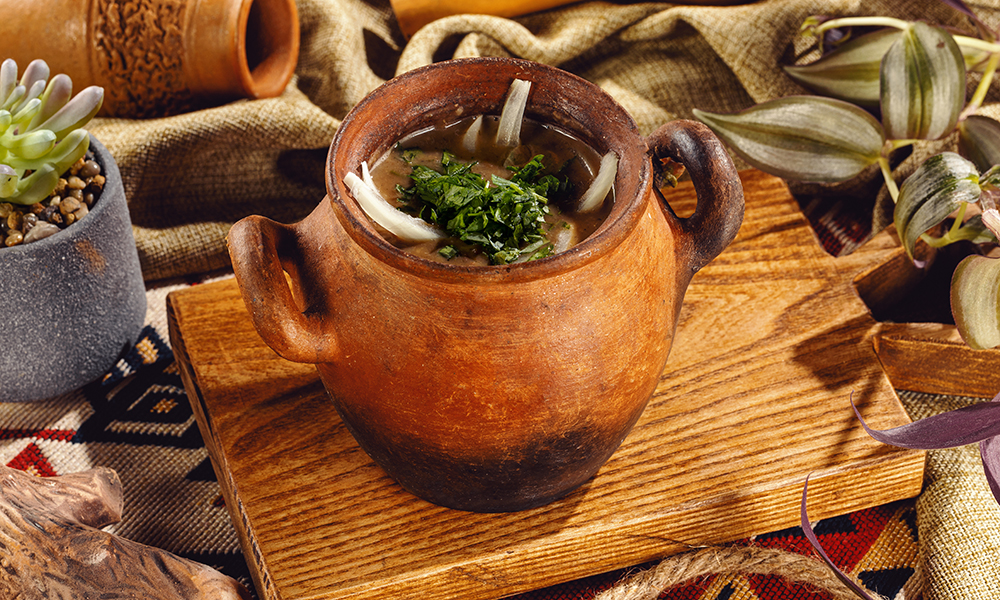 Place the beans in cold water overnight, drain the water in the morning, pour more cold water on top, and place it over the burner to cook. If the water has evaporated, fill it with cold (not hot) water. Add basil, celery, garlic, pepper, and bay leaf once the beans are
partially cooked. When the beans are fully cooked, add the parsley, coriander, savory, and basil, and mash everything together with a wooden spoon. If desired, add 1 tablespoon of pressed walnuts along with the vinegar and salt.
This type of Lobio pairs well with Mchadi and pickles.
Where to taste the best Lobio (Beans) in Tbilisi?
At Bread and Wine in Tbilisi, we believe that food is more than just sustenance – it's an experience. That's why we take great pride in our Lobio dish, which is a staple of Georgian cuisine. Our chefs are passionate about using only the freshest and highest quality ingredients to create a dish that is true to its Georgian roots.
When you visit Bread&Wine, we want you to feel like you're taking a culinary journey through Georgia. Our Lobio is just one of the many dishes that we offer, and we invite you to explore our menu and discover the rich flavors of Georgian cuisine. From savory soups and stews to delectable pastries and desserts, we have something for everyone.
So why not book your table today and experience the magic of Lobio for yourself? Our friendly staff are always on hand to answer any questions you may have and to make your dining experience a memorable one. We can't wait to welcome you to Bread and Wine and share our love of Georgian cuisine with you.